Research and development objectives
Utilizing our large scale clinical foundation
We aim to utilize the clinical power and wealth of clinical data of Juntendo's six hospitals in order to provide researchers and businesses with the clinical trial environments they need.
Integration with clinical settings
Our Research and Development Support Division adapts to the clinical setting and seeds of development provided by businesses and researchers to propel the development process forward as fast as possible.
We are involved in global research and development in a variety of ways—from utilizing our domestic and global networks to discover innovative development seeds, to providing inbound support for seeds from abroad and engaging in multinational clinical trials and interdisciplinary study.
Utilizing our large scale clinical foundation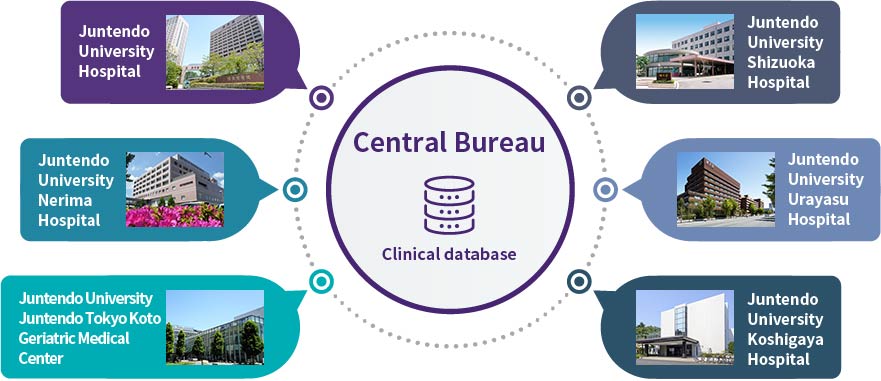 At our Clinical Research and Clinical Trial Center, in order to expediate the ethical review process for clinical research and clinical trials involving multiple facilities including our six Juntendo hospitals, we centralized all ethical review management under the control of our Central Bureau. We are also working on integrating the clinical data held by our six hospitals. Through this initiative, we hope to create an environment that allows us to make the best possible use of Juntendo's large scale clinical foundation with our six hospitals—which have a total of 3,443 (15 MAY 2020) beds and treat over 10,000 outpatients every day, many of whom suffer from rare or incurable diseases—securing access to research subjects, shortening trial timelines, and reducing development costs.
Promoting research and development projects adapted to clinical settings
At our Clinical Research and Clinical Trial Center, we are engaged in research and development promotion, adopting seeds not just from Juntendo University but also a range of other research institutes and businesses. We take suggested seeds and conduct mediation with clinical settings at our Clinical Research and Clinical Trial Center, providing our clients with the support they need to establish their research and development projects. By providing seamless support for strategy development, preparation of documents (both for internal and external use), and handling of internal procedures for clinical research and clinical trials, we are able to help shorten project timelines and improve research quality.
Establishing ourselves as a strong base for research and development in Asia
We areexpanding open innovation in direct connection with clinical settings. The open innovation program to be conducted at the center will invite researchers and businesses from both within Japan and abroad, providing a space for them to communicate directly with Juntendo doctors active in clinical settings and matching seeds with needs. We assign a dedicated project manager to each project to provide support for clinical research and clinical trials conducted at Juntendo University Hospital. In the future, we hope to work with universities across Asia to establish an organizational structure for multinational clinical trials and support the development of new development seeds in the wider Asian region.